GERI's 9-mo profit jumps 26% to P1.6B
November 11, 2019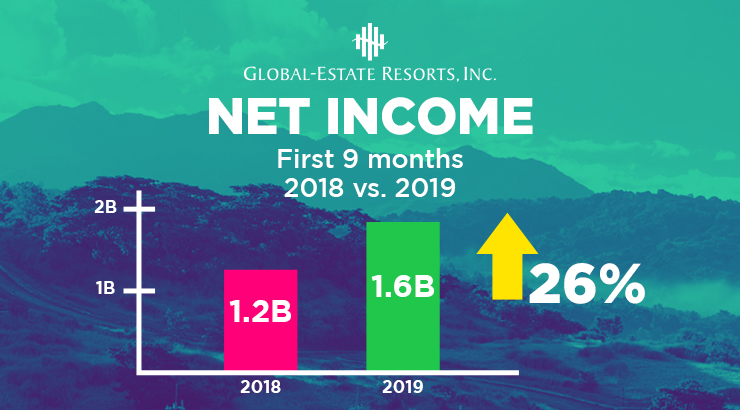 Hotel revenues grew over 400% during the first three quarters of the year
Global-Estate Resorts, Inc. (GERI), a subsidiary of property giant Megaworld, finished the first nine months of 2019 with a P1.6-billion net income performance, a growth of 26% from its P1.2-billion output during the same period last year. Excluding non-recurring gain of P189 million, net income increased by 10% to P1.4-billion. The company's net income attributable to parent company saw a 9% growth to P1.4-billion from P1.2-billion during the same period last year.
GERI's consolidated revenues grew from P5-billion to P5.9-billion during the first nine months of the year, registering a 19% growth year-on-year. This was fueled by the strong growth of its rental and hotel businesses.
The company's hotel operations became the fastest growing segment during the nine months of 2019 as it exhibited a 430% growth to P665-million from P126-million in the previous year, following new hotel openings in Twin Lakes and Boracay Newcoast.
"Our continuing thrust to help boost tourism in the country is even gaining more momentum as we open more hotels across our tourism townships," says Monica T. Salomon, president, GERI.
Rental revenues, on the other hand, almost doubled to P571-million from P294-million during the same period last year.
"We have completed and fully leased-out our Southwoods Office Towers last year. This year, we are going to realize full year rental revenues from these projects," adds Salomon.
The company's real estate business, on the other hand, remains stable at P4.2-billion during the first nine months of 2019. Real estate sales accounts for over 70% of its total revenues, which mostly came from the sale of residential and commercial lots as well as condominium units in Twin Lakes, Southwoods City, and Boracay Newcoast.
"The growth in our real estate revenues will be underpinned by project launches from our new and existing townships and integrated lifestyle communities. Moving forward, this should be sustainable as the company has a huge land bank for both vertical and horizontal developments," explains Salomon.
GERI, along with its parent company Megaworld, are jointly developing a 251-hectare property located at the boundary of Trece Martires and Tanza in Cavite called Arden Botanical Estate.
The expansive development, which will be curated to engage and stimulate the senses, will be highlighted by flower gardens and green parks.
Aside from Arden Botanical Estate, GERI has seven other integrated tourism developments across the country covering more than 3,000 hectares of land namely: Twin Lakes in Laurel, Batangas (1,200 hectares); Southwoods City in Biñan, Laguna and Carmona, Cavite (561 hectares); Alabang West in Las Piñas City (62 hectares); Boracay Newcoast in Boracay Island, Aklan (150 hectares); Sta. Barbara Heights in Sta. Barbara, Iloilo (173 hectares); Eastland Heights in Antipolo, Rizal (640 hectares); and The Hamptons Caliraya in Lumban‐Cavinti, Laguna (300 hectares).