Megaworld's GERI Earnings Up 37% in 1H19
August 6, 2019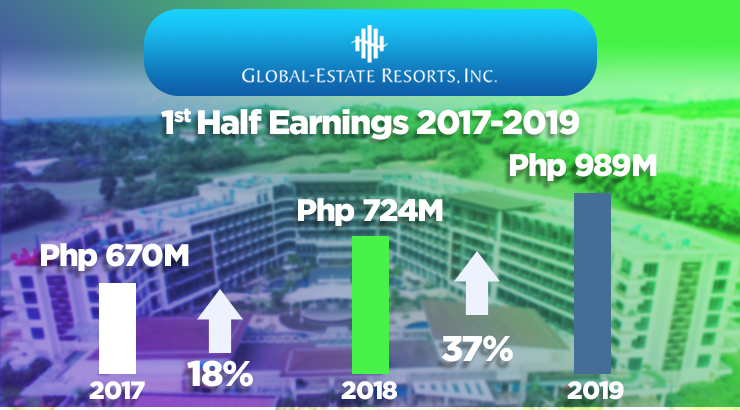 Global-Estate Resorts, Inc. (GERI), Megaworld's subsidiary brand for integrated tourism and leisure estates, grew its net income by 37% to P989-million in the first half of the year from P724-million during the same period last year. On the other hand, the company's net income attributable to parent company saw a 16% growth to P865-million in the first six months of 2019 from P745-million during the same period in 2018.
Excluding non-recurring gains of P189-million in the starting half of 2019, the company saw a double-digit growth of 11% in its earnings from the same figure during the comparable period the previous year. GERI's strong output particularly in its rental business and hotel operations provided the impetus for earnings growth while revenues from its residential sales anchored profits.


The company's consolidated revenues excluding non-recurring gains was up 22% year-on-year to P3.9-billion in the period ending June this year from P3.2-billion in 2018. GERI's strong topline was backed by its core businesses, which collectively ended at P3.8-billion after the first half of 2019, growing close to 20% from P3.2-billion during the same period last year.

"Our growth story hinges on our rental and hotel businesses, which have been growing rapidly this year. On the rental side, the office segment in particular saw a huge swing in revenues due to the fact that both office towers in Southwoods City have already begun realizing full-year rentals. On the hotel side, the opening of Twin Lakes Hotel around late last year have boosted revenues significantly as the development continues to gain popularity amongst people visiting Tagaytay," says Monica Salomon, president, GERI.
GERI's rental income in the first half of the year saw a 113% increase, ending at P377-million after June from P177-million during the comparable period in 2018. Most notably because of the Southwoods Office Towers, the company's office rental revenues expanded exponentially during the first six months of the year reaching P110-million from very minimal office leases a year before.

On the other hand, GERI's hotel revenues also grew considerably during the first half of 2019, soaring 286% to P484-million from P125-million in 2018. The company attributes the strong growth from its Twin Lakes Hotel, which added about 130 rooms to its portfolio upon opening. Other than this, GERI currently operates two more hotels in its lineup: Savoy Hotel Boracay and Fairways & Bluewater, both in Boracay Newcoast.
GERI's residential sales was stable at the P2.8-billion level, marginally up about 1% year-on-year during the first half of 2019. The real estate business of GERI comprises close to 70% of its total revenues.

Today, GERI has seven (7) tourism townships and integrated lifestyle communities across the country covering more than 3,000 hectares of land namely: Twin Lakes in Laurel, Batangas (1,200 hectares); Southwoods City in Biñan, Laguna and Carmona, Cavite (561 hectares); Alabang West in Las Piñas City (62 hectares); Boracay Newcost in Boracay Island, Aklan (150 hectares); Sta. Barbara Heights in Sta. Barbara, Iloilo (173 hectares); Eastland Heights in Antipolo, Rizal (640 hectares); and The Hamptons Caliraya in Lumban-Cavinti, Laguna (300 hectares).